Posted by
FAM Admin
on Dec 8, 2016 in
Featured Articles
,
Kitchen
|
Comments Off

on Passion for Food
By Lori Rodgers –
My passion for fine food began at an early age. I started reading Gourmet magazine when I was 8 years old. Much to my mother's dismay, I loved to experiment with unusual combinations of the items in our refrigerator. And then I would do my best to convince my family members to taste these concoctions. The results weren't always edible, but that didn't stop me. The more complicated the recipe the better. I perfected chocolate rum cake, ordered a Wilton cake decorating cake and piped thousands of buttercream rosettes, and hand crafted panoramic sugar Easter eggs.
Now that I reflect on my childhood, I realize my father played a large role in my appreciation for haute cuisine. Don't get me wrong. I was raised in the South by third generation Southerners. We ate  grits, buttermilk biscuits topped with cane syrup and butter, fried chicken, pole beans seasoned with salt pork…you get the picture. But dad also frequently took me to the best restaurants in town and all over the country When I was 14, I tagged along on a business trip to San Francisco. We dined at a different four star restaurant each evening and I was in heaven. I also discovered Ghirardelli chocolate and sourdough bread. And sourdough starter. I returned home with a ceramic crock, a one year supply of starter and a decent number of chocolate bars. We ate our way through New Orleans (Café Brûlée at Brennan's), the Texas panhandle (best coconut cream pie ever at a little roadside diner), Solvang and Carmel (I mainly remember the pastries and astonishing variety of fresh fruits literally bursting with flavor), and New York City (Tavern on the Green).
In my early 20's I expanded my horizons with a summer semester in Switzerland as part of the FSU hospitality program, worked in Madrid the next summer and traveled to Panama and Venezuela to visit the home towns of college friends. The budget was more limited when traveling sans dad!  Finding delicious yet affordable food was like treasure hunting. I discovered countless delicacies at  tapas bars, roadside stands, and fresh markets. Some of those tasty treats have never been matched despite my best efforts. Grilled arepas dripping with goat cheese, paper thin slices of  jamon Serrano, sun-warmed figs hand picked at peak of ripeness…these are the experiences that are deserving of the "once in a lifetime" label.
Honestly, I never thought my passion for food could be a career. It was too much fun! I was raised to believe that hard work was the path to success. Four decades later I have learned that while hard work is an essential element of success, you can be successful doing something you love.  And guess what? I have the good fortune to start a new chapter in my life and to choose my true passion as my focus.
The adventure begins with a new home and designing my dream kitchen. This is the "before"photo. Demo starts today! Stay tuned as I share the transformation of this space and my life.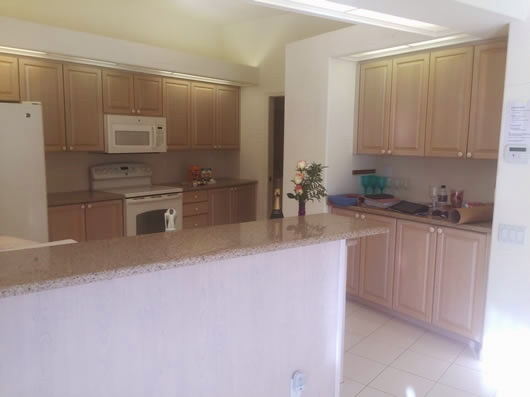 Demo…Day One
Okay, first I have a confession. I am a neat freak. I straighten pictures, turn paper towel rolls around if they aren't facing the "right" way (paper comes down over the top to the front, never the back), and if I open your refrigerator there is a good chance in I'll rearrange the contents.
All that being said, when I drove up to my new home the day after closing, I hit the garage door opener and was shocked by what I saw. Yes, my fabulous contractor Chris told me it would look different. He scheduled his demo crew to start the job day one. But I have never remodeled a home before and had not given much thought to the "messy" aspect of the process.
Sitting in my car in the driveway as the door opened, I realized I would not be parking in the garage today. Or next week. The refrigerator was front and center. The stove, dishwasher, and washer and dryer lined the right-hand wall.  Cabinets, some more intact than others, filled the third car spot. Guess the golf cart won't be parked in the garage anytime soon either! In the middle of the garage was a trailer filled with the debris of the kitchen counter tops, floors, etc.
I quickly closed the door, deciding to enter through the front door instead. Good move.  The beautiful view? Still there. High ceilings, tons of natural light? Check, and check. The white carpeting was gone along with most of the white ceramic floor tile. And as you can see in the photo below, the kitchen was completely demolished.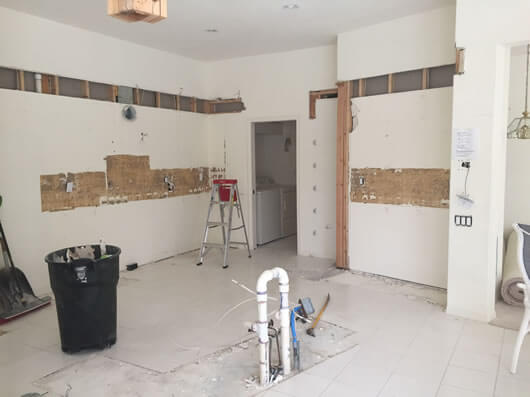 I couldn't help wondering what the former owners, George and Judy would think. When you negotiate the purchase of a home you get to know the sellers. They are a lovely couple from England who built this as their second home 25 years ago, living here six months out of the year to be near their children and grandchildren. The house was immaculate and the original owners were impressively organized. I was provided with the blueprints, an 8-inch thick binder filled with instruction manuals for just about every item in the home, and a bag full of neatly labeled keys. They also left a beautiful card wishing me the same  happiness they experienced while living here and a bottle of champagne!
Buying this house and designing my dream kitchen marks the beginning of a new chapter in my life.  Recently divorced and having sold my business after 25 years, I am ready for a fresh start for myself and my family.  I have  two teenagers, 16 and 13. My 86-year old mom moved in with us two years ago. The kids are vegan, mom and me not so much! I am thrilled by the opportunity to embrace my true passion, food! And I am looking forward to learning how to prepare plant-based meals for my children.
As you can see from the next photo, this home renovation project is not limited  to the kitchen. I am replacing all of the the flooring and remodeling all four bathrooms.  Contractor Chris calls it a "gut job".  An especially appropriate term for the moment I realized the actions my words created. I could feel it in the pit of my stomach. A seed of doubt quickly growing into a full fledged tree. The remedy? Time to go shopping! As soon as I choose countertops, cabinets, and appliances, the work on my dream kitchen can begin. In as little as five or six weeks I will be moving into my new home and preparing my first meal. Hmmm….just realized I need to plan the menu. Fun!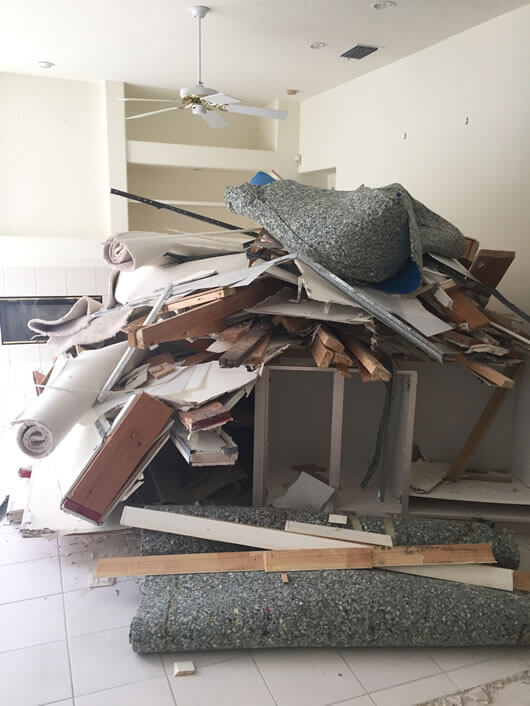 P.S. It didn't all fit in the garage!