Posted by
FAM Admin
on Jun 7, 2017 in
Featured Articles
,
Kitchen
|
Comments Off

on Welcome to the 'Hood
By Lori Rodgers –
I just reread the article I wrote in October. Toward the end, I wrote: "In as little as five or six weeks I'll be cooking in my new dream kitchen." Ha! Call me naïve. I like to think of myself as inexperienced. Whatever the terminology, I have learned a lot over the past four months. Completely remodeling a kitchen is a BIG job. Choosing appliances, cabinets, countertops, etc. is a lot of work. And then those items must be ordered. Many readers may be reno pros. Not me. Up until last fall, the closest I had come to remodeling was watching The Property Brothers.
I'm not a modern, gray and white kind of girl. I chose more traditional cream cabinets with a hazelnut glaze. The floors in the entire home are a dark distressed bamboo and they contrast beautifully with the lighter cabinets.
I had planned to install quartz countertops but during a last-minute trip to the Stone Yard I discovered three slabs of granite that I immediately fell in love with. Cappuccino Black. It's gorgeous and ties everything together.
I loved the look of the longest kitchen wall so much that I decided to put the microwave on the opposite wall, creating a coffee bar area in the corner. Instead of an appliance in the middle of this elegant wall of cabinets, I chose a gorgeous hammered copper range hood. And it matches the sink! I had to special order the hood. It was a leap of faith, an investment, and required patience. Delivery time was estimated to be six weeks.
February 24th was Moving Day. Several projects remained incomplete at that point including selecting the backsplash and delivery of the range hood. The move itself I likened to a tsunami. Despite my planning, weekends of packing, and multiple trips to SPARCC's Treasure Chest, I still ended up with a garage full of boxes. The kitchen backsplash decision was put on hold while my family and I settled into our new home. It took one week to find the silverware, two to find the plates. In my defense, five days after we moved I chaperoned two back-to-back out of town school trips.
Two and a half months later, 99% of the interior work is done and I am busy whipping up some family favorites along with new recipes in what I can truly call my Dream Kitchen! I searched for weeks and found the ideal backsplash. The range hood was delivered and it lived on my garage floor for about a month. I was a bit concerned I wouldn't be happy with the look once it was installed. Fortunately, it looks fabulous! Here are a few pics, starting with "in progress" and then the big reveal!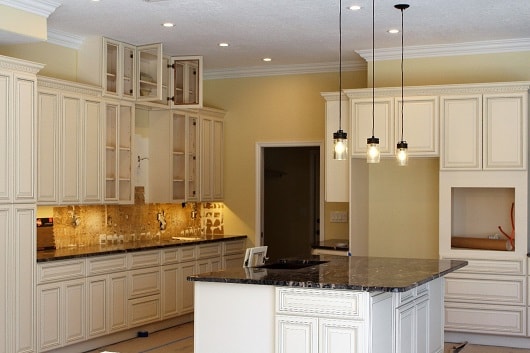 Before appliances. Oops. There isn't room for a double oven next the refrigerator! Tom to the rescue. He's THE cabinet guy!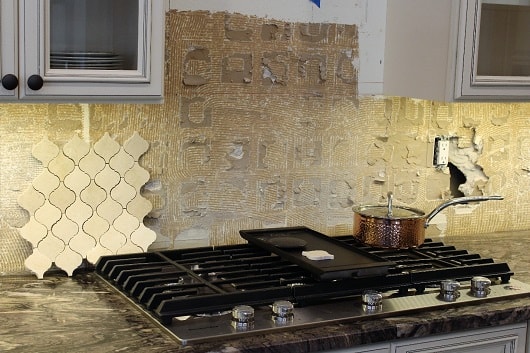 The winner! Love this tile. Its neutral but not boring. And it brings in the Moroccan flair I have woven though the interior design. LOVE IT!!!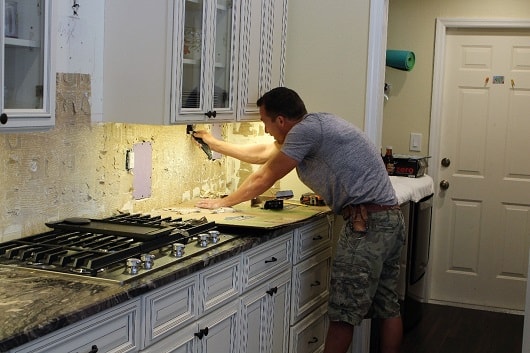 Jesse from Chris' Custom Carpentry did a masterful job installing the backsplash. Thanks guys!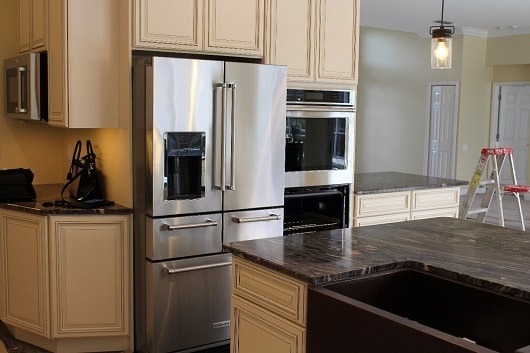 We have appliances! This is the finest refrigerator I have ever owned. The five-door design is ideal for keeping the vegan and non-vegan food separate. And it's pretty! Tom worked his magic and we have double ovens, one of my Dream Kitchen "must haves!"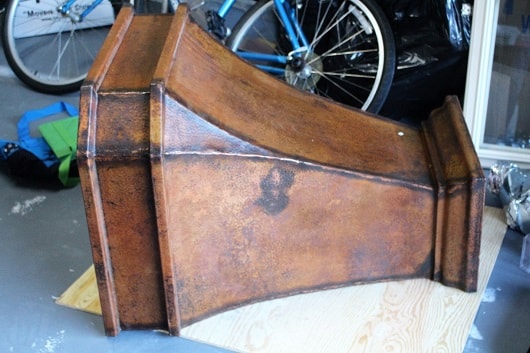 The arrival of the 'Hood. Hand made in Mexico. Wow. Really big!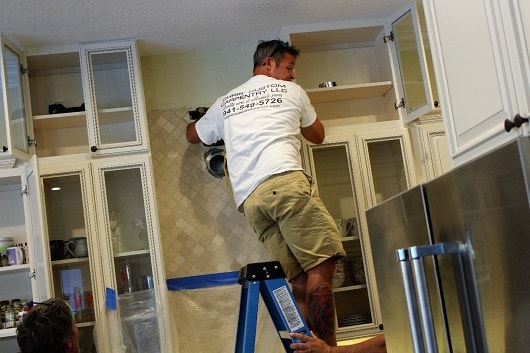 The big day finally arrived. The 'Hood is going in!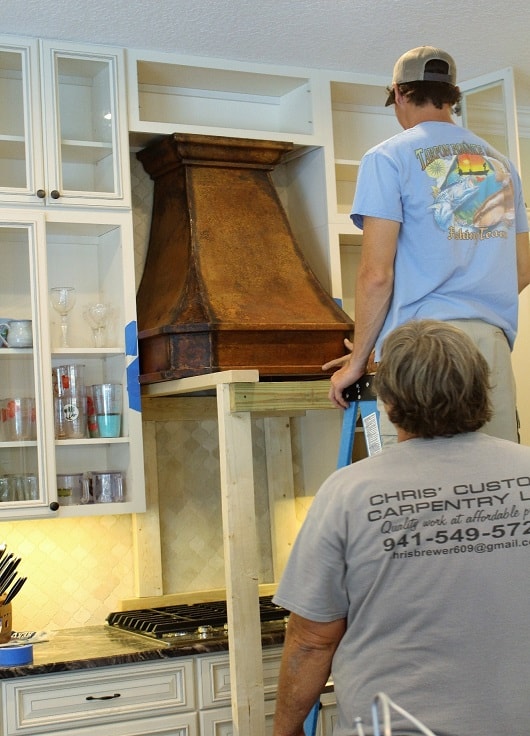 Tom and Tom Jr. We're in good hands!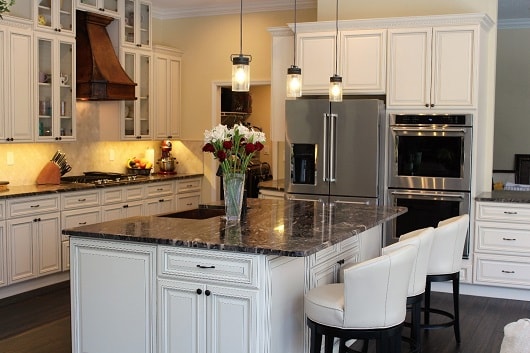 Ta Da! The big reveal. Welcome to my Dream Kitchen! And the 'Hood!