Our own Doc Lawrence shares his favorite recipes.  "Every recipe has a story. Many are priceless memories. They connect us like music and great literature."
Recipes From The Heart
From the Doc Lawrence Collection
Joshua Butler served as executive chef for three Florida governors, movie mogul Tyler Perry and the Zac Brown Band. A Florida native, Chef Butler lives in Atlanta and is a food consultant. This amazing three-part original recipe was given to me and I'm honored to share it with those who enjoy the fruits of Florida's land and water.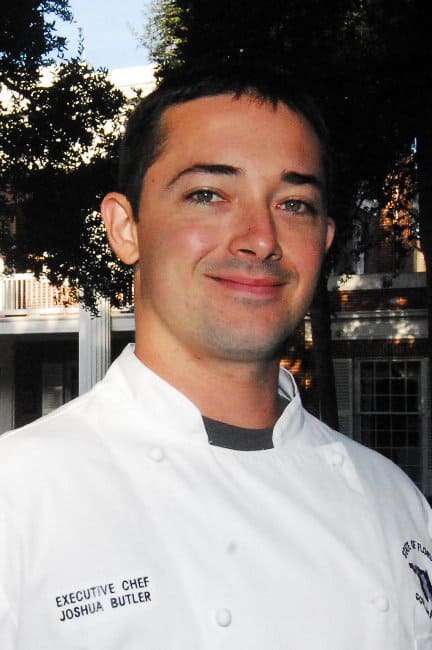 Dog Island Grouper Burger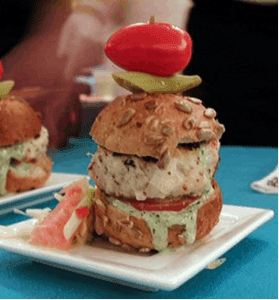 1 pound fresh Florida grouper fillet, rough chopped
½ pound fresh Florida peeled and deveined shrimp
1/4 cup red onion, finely chopped
¼ cup red bell pepper, finely chopped
¼ cup celery, finely chopped
1/2 cup unseasoned breadcrumbs
1 teaspoon whole grain mustard
2 tablespoons mayonnaise
1 egg, beaten
3/4 teaspoon salt
1/4 teaspoon ground black pepper
4 whole grain, freshly baked buns
Florida Slaw, see recipe.
Tallahassee Tartar Sauce, see recipe
Add the shrimp to a food processor and pulse until it forms a paste. Roughly chop the grouper into pieces the size of a dime. In a large bowl, combine the chopped Grouper, Shrimp paste, salt, pepper, onion, bell pepper, breadcrumbs, egg, mustard, and mayonnaise and fold gently to distribute the ingredients evenly. Divide the meat into four equal sections. Shape each portion into a patty. Cover the patties with plastic wrap and refrigerate for 1 hour. Cook the burgers for 4 minutes per side or until the internal temperature reaches 150°F. Place the cooked burgers on top of the whole grain rolls, then top with Florida slaw and Green Tartar sauce.
Tallahassee Tartar Sauce
1 cup low fat mayonnaise
1 cup Greek-style yogurt
3 tablespoons finely chopped shallots
1 teaspoon finely minced fresh flat-leaf parsley
1 cup fresh basil, leaves picked off of stems
1 cup fresh cilantro, leaves picked off of stems
1 cup fresh Mexican tarragon, leaves picked off the stem
1 cup fresh baby spinach, stems removed
1 teaspoon capers, drained and chopped
1 teaspoon chopped cornichon or dill pickle
1 teaspoon fresh lemon juice
Salt and cayenne pepper, to taste
In a food processor or blender, add the fresh herbs, spinach and lemon juice, then puree. Add the mayo and yogurt and puree to incorporate the herbs.  Pour this mixture into a bowl and fold in the remaining ingredients. Season with salt , pepper and cayenne. Cover and refrigerate until ready to use.
Florida Slaw
½ head Napa style cabbage
2 carrots peeled and grated
1 small sweet onion, sliced
2 pink grapefruits, sectioned
2 tangerines, peeled and sectioned
2 tablespoons key lime juice
4 teaspoons raw Florida sugar
4 teaspoons Greek-style yogurt
1 tablespoon fruity olive oil
Salt and pepper to taste
Place the vegetables in a mixing bowl and toss with olive oil. With a serrated knife, peel the grapefruits and tangerines and cut out the segments removing the white pith. Cut the sections into bite size pieces then add to the cabbage mixture. Mix the lime juice and the sugar together until dissolved. Add the yogurt and toss well. Add salt and pepper to taste. Cover and refrigerate for an hour.