By Marsha Fottler –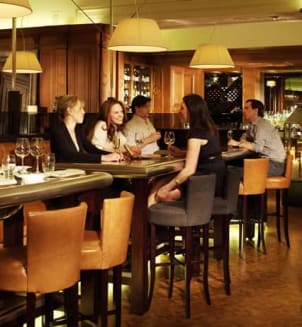 If you eat out a lot, and we food writers do, various trends begin to emerge in restaurants both haute and humble. Eventually, the best of them work their way into your kitchen so trend spotting in restaurants is something well worth your time. Some of these trends are on the menu, others have to do with ambience and service. A lot of trends lately have reflected a deflated economy, declining guests at the door and the hospitality industry's response. Here are some big and little trends I've noticed lately. See how many you can spot as you dine around your town. Have you got any to share on our Facebook page?
Better lighting. When candlelight is on the table for ambience, it's the new battery-operated faux candles. Less mess, and the new ones actually flicker.
Using bistro dish towels as napkins. They're white and cotton and if you're wearing black pants, you're going to go home with lint on your clothes.
No spoon. The spoon is the most commonly-stolen item in a restaurant, but the reason it's disappeared from the table setting is that is not that useful anymore. But, if you order a creamy dessert or soup, a spoon comes with it.

Kale

Irregularly-shaped plateware, usually it's white, modern, looks cool and now some of the big-box stores have started carrying pieces for you to use at home.

More banquettes and more high pub tables. Younger diners with long legs are more comfortable at high tops than seniors who have a dread of them and look for cushy banquettes instead. Also trendy are community tables.
Comfort food. Cheese or pasta or both seem to be the major ingredients.
Listing local sources for meat and produce on the menu. It's part of the bigger farm-to-table movement. Chefs want you to know they are shopping for fresh local ingredients.
Gluten-free meals. People with celiac disease need gluten-free options, but the trend is playing to the general population which seems to think that eating gluten-free is healthier and can help with weight loss.
Kale. Great health benefits and there are more recipes around now than ever.

Meatballs

Korean food. First Lady Michelle Obama has been growing Napa cabbage in the White House garden. Recently, she harvested it to make kimchi, the national recipe of Korea.

The disappearance of white tablecloths or any tablecloths for that matter. Bare tables even in fancy restaurants seems to be the trend.
Short ribs. It seems everybody loves them and most restaurants want to cook them.
Signature cocktails, many made with infused vodka or gin such as bacon-infused vodka. And bartenders are now called bar masters or mixologists.
Meatballs.
Gourmet pizzas and fancy flatbreads with prices to match their elevated status.
Easy Kimchi
Kimchi is basically fermented cabbage but often includes daikon radish too. It is served at room temperature as a side dish but can be incorporated into cooked meals too. kimchi is healthy and rich in good bacteria – those bacteria that help support the immune system and assimilate vitamins. Kimchi is also a rich source of vitamin C and other antioxidants. Make your kimchi about a week before you want to enjoy it. This recipe uses a bit of shrimp, which is traditional, but you'll find recipes using anchovy too or just fish sauce. Some flavor from the sea is essential in the mix. Also, you'll find kimchi recipes that call for strips of carrot. That's authentic too. The best way to shop for the ingredients for kimchi is to make the nearest Asian market your primary source. But, of course, Napa cabbage is at your local supermarket.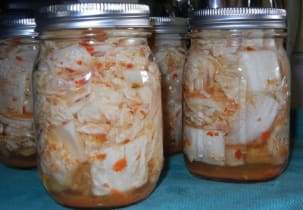 1 (2-pound) Napa cabbage
1/2 cup kosher salt
About 12 cups cold water, plus more as needed
8 ounces daikon radish, peeled and cut into 2-inch strips
4 scallions cut into 1-inch pieces (use all parts)
1/4 cup fish sauce
1/3 cup Korean red pepper powder
1/4 cup peeled and minced fresh ginger
1 tablespoon minced garlic cloves
2 teaspoons Korean salted shrimp, minced
1 1/2 teaspoons sugar
Cut the cabbage into 2-inch pieces, discarding the root end. Place in a large  bowl and sprinkle with the salt. Toss until the cabbage is coated. Add the cold water to cover, making sure the cabbage is submerged. Cover with plastic wrap and let sit at room temperature at least 12 hours. Drain the cabbage in a colander and rinse with cold water. Squeeze out the excess liquid and transfer to a medium bowl; set aside. Place the remaining ingredients in a large bowl and stir to combine. Add the cabbage and toss until evenly combined and the cabbage is thoroughly coated with the mixture. Pack the mixture tightly into a clean 2-quart glass jar with a tight-fitting lid and seal the jar. Let sit in a cool, dark place for 24 hours (the mixture may bubble). Open the jar to let the gases escape, then reseal and refrigerate at least 48 hours before eating  Kimchi will keep in the refrigerate for up to a month. But, it probably won't last that long.
F&M